Welcome !
The
Dark Directory
is all about quality links that dedicated to the dark side of life.
Submit your website for free to the
Dark Directory
by sending your site URL, Title and description to:
Your site will be reviewed manually by me, and after it is approved you will be instructed to place an html code in your website. Please note that the html code is a text link to my other gothic website, which will remain secret until you actually get my secret html code
Have Fun ! ! !
Gothic Angel
Psychic Predictions
things like Horoscopes4u, Online Ouija Board and King Tut Facts and more!
Wiccan spells
- Wicca Spells, a central source of knowledge that is gathering information on genuine Wicca rituals, Spells, Sabbats and general Witchcraft. Wiccan spells
Cheap Hotels in Amsterdam
- Find complete tourist information, cheap and best-located hotels, and apartments along with instant and secured online hotel booking, travel advice, airport, and weather.
GlitterGoth
- Alchemy Gothic jewellery including rings, bracelets, cuffs, chokers, necklaces, pendants, earrings and accessories at discount prices.
Right Rhythms
- All my life I've been waiting for you to bring Fairy Tale my way....Been living in a Fantasy without meaning... It's not okay...I don't feel safe...

spankywhip.com
Films Unknown Cult & Kool!!!
The Videojungle Store
- The place to get the movies and a lot of other cool stuff!!!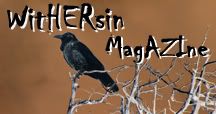 Withersin Magazine
A new genre in literature that explores the darker side of the human condition.
Shop Ed Hardy Clothing
- Find a variety of Ed Hardy clothing and products for sale.
Raven's Mist Your one stop web-shop for all of your Pagan, Wiccan, New Age, Shamanic, Witchcraft & Metaphysical needs
All Or Nothing Tattoo And Body Piercing Studio.
Faeries By Leeca
- EHave you ever wondered what you would look like if you were one of the Faerie Kind?
Cremate-me.net
- Everything you ever wanted to know about cremation but were afraid, (very afraid), to ask.
Victorian Hawk
- an online community (artwork, clothing, dating and lore) for all occult, gothic, heavy metal and art enthusiasts.
Ghost Tours combines the unique experience of visiting some of the nations most historic HAUNTED SITES with the ancient art of storytelling. Hear the Haunted Heritage of these sites including classic local ghost stories, urban legends and myths, true tales of tragedy, crime, murder, mystery, magic, witchcraft, love & death.
The Legends of Horror
This haunting season, be sure to experience The Legends Of Horror as your scariest nightmares become your worst reality. In twenty scenes of twisted and wicked mayhem, you'll meet the horror legends of past and present. What is your ultimate fear? Chainsaws? Clowns? Mazes? Helplessly lost in acres of corn? Or other phobias too horrifying to mention? Join us to face your fears. Will this be your final scream?
An Angry Author Screaming
- Are you an author, or an artist, that can't seem to get recognized? Or, are you a horror fan looking for another dark corner in the mind? Well, I'm here to help either way.